Insignia™ TruRoot™
Insignia — TruRoot data integration and enhanced Approver functionality by Ormco Corporation
Over the past several years, the spotlight on digital orthodontics and associated technologies has become brighter and brighter. As technology continues to evolve, orthodontists and their staff are granted expanded access to advanced patient tools and software systems. To support this digital movement, Ormco has been leading the industry with innovations for over 50 years and pioneering developments in digital technologies, notably with Insignia™. Insignia is a fully interactive, computer-aided treatment planning and custom appliance system designed to give every patient a truly one-of-a-kind smile. It's a precise, start-to-finish process that can deliver the optimal functional and esthetic outcomes for each unique patient.
Earlier this year, Ormco announced TruRoot™ data integration for Insignia. Ormco's proprietary TruRoot process precisely combines cone beam computed tomography (CBCT) data and intraoral scanner or impression data for uncompromising accuracy in the representation of patient anatomy in the Approver software. The incorporation of TruRoot technology allows doctors to better visualize and predict root and tooth movement, making it easier to assess and determine the best treatment plan for each patient at the start of an Insignia case.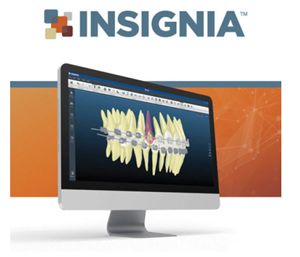 For doctors that do not submit CBCT data with their Insignia cases, Insignia has also improved its existing root library by extending the roots to provide doctors with a full simulation of the entire root position. Displaying long roots provides doctors with a more complete picture of the patient's anatomy, enabling them to determine better treatment plans from the start of the case. In addition to the incorporation of improved root data through TruRoot and the updated root library, the latest Insignia upgrade also includes enhanced Approver functionality. The new user experience improvements give doctors exceptional control over macro changes within the Approver software and allow doctors to preview jig design before approving their cases.
In addition to exceptional software upgrades and integrations, Ormco has also continued to expand on the number of industry-leading digital scanners from which Insignia can accept files. Of note, effective this year, clinicians utilizing Carestream Dental CS 3600 scanners will now be able to take advantage of the clinical excellence, precision, and efficiency that Insignia
can provide.
To learn more about Insignia, visit www.ormco.com/products/insignia-advanced, or speak with your Ormco representative. To learn how your patients can benefit from Insignia, or to find your name in the doctor locator, visit https://insigniasmile.com/.
This information was provided by Ormco Corporation.