Prophy Magic is your direct source for high-quality products at factory-direct prices. We specialize in disposable prophy angles and offer free incentives with EVERY purchase such as our hygiene handpiece or disposable air/water syringe tips. Prophy Magic is committed to Excellent Customer Service paired with exceptional offers that will save your practice money. We at Prophy Magic understand the challenges of today's tough economic times and thrive to keep the costs low, quality high, and to build a lifetime relationship with you and your practice.
Prophy Magic prophy angles are very smooth running with no stalling or overheating. Our prophy angles provide less splatter and better flaring for better subgingival access. All of our prophy angles are all made 100% latex-free. Our standard prophy angles come in three different cup variations — soft, hard, and our signature Mystic cup. Our Mystic cup prophy angle has unique, diamond-shaped bumps on the external surface to help improve interproximal and lingual cleaning. Their internal webbing has counterclockwise, turbine-like fins that impel the prophylaxis paste to polish more quickly and effectively. This configuration also greatly reduces the splatter of paste and saliva.
For our orthodontic patients, Prophy Magic is pleased to offer two new prophy angle types. We now offer a tapered brush and a pointed polisher. The tapered brush is ideal for heavy stain removal and is great for orthodontic cleanings and applications. The tapered brush also provides exceptional access to occlusal pits and fissures. Our pointed polisher is also great for heavy stain removal and orthodontic cleanings, providing hard-to-reach access under ortho wires and around brackets.
For pediatric patients, Prophy Magic has added our KiDDOZ Prophy Angles. The 100% latex-free prophy angles are available in five fun designs that greatly help to reduce young patients' anxiety. The young patient can pick from a bird, pig, panda, fish, or a seahorse. These fun angles have a soft webbed/ribbed cup design for maximum splatter control and are available in 100-count assorted boxes.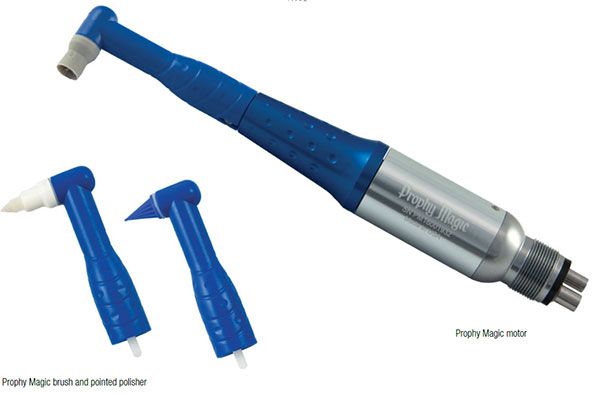 Our hygiene handpiece is the ideal handpiece for doing prophylaxis. It is ergonomically balanced and designed with a weight less than 3 ounces greatly reducing fatigue. It has a detachable friction-grip nose cone that allows you to easily insert and remove prophys without having to turn and lock. The motor itself is actually a standard "E-type" motor and also allows for other attachments, such as contra angles or straight-nose cones, making it extremely versatile. This handpiece is offered as a FREE incentive with your prophy angle purchase.
For more information, visit , or call 866-54-MAGIC (62442).
This information was provided by Prophy Magic.