Kris Kinlen, Uriyah Robinson, Rick Alfieri, and Jerry Dickens discuss achieving absolute comfort with this practice management software
Today, we carry our whole lives around on our smartphones; we grow so accustomed to our phones that we can almost use them in our sleep. This means that when a software update is released, it can cause confusion and frustration; after all, maybe you were perfectly happy with the feature that Apple or Google decided needed "improving." It's no different with the practice management software that powers orthodontic practices. Users work within the software for 8 or more hours a day, and their lives and livelihoods are intimately tied to its functionality. While new updates can help, they can also be a hindrance, as users have to relearn the software they have grown used to.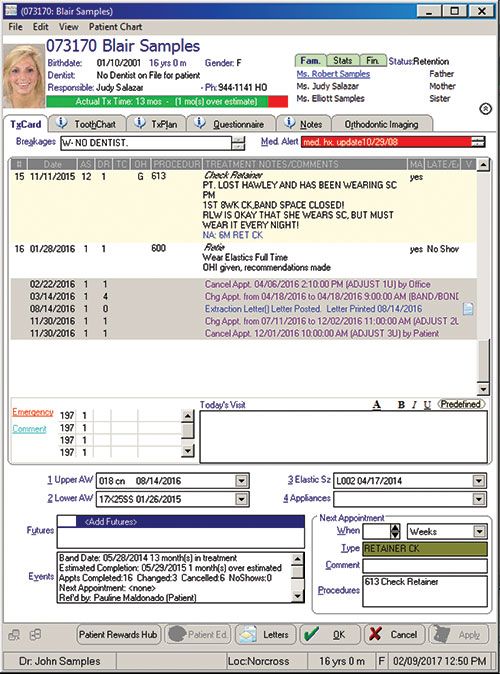 Treatment card before 2017 update
Finding comfort in software updates
This was something that a dedicated team of designers, developers, and market managers recognized when it came time to update Carestream Dental's CS OrthoTrac practice management software. Fully aware of practices' dependence on the software, while acknowledging the potential disruption any new updates could cause, the team had a special term for what they wanted to accomplish: hygge (pronounced hue-gah). There's no direct English translation for the Danish word; it can be best described as the feeling one has when he/she finds absolute comfort in his/her surroundings. CS OrthoTrac users spend hours in the software, but are they comfortable in it? Are they relaxed and confident moving from screen to screen? That was the ultimate goal for the development team — for CS OrthoTrac users to find a feeling of absolute comfort in the software.
If hygge answered the "what" of the new update, then investment was the "why." In 2017, Carestream Dental refocused on its software offerings, making significant investments to deliver meaningful updates to users with a shorter turnaround time. Users would gain new value from their software or rediscover existing value that they may not have been taking advantage of. In addition to targeted redesigns, the investment brought new talent; the CS OrthoTrac team grew significantly, each new member bringing fresh perspective not only on how to handle this important update, but future ones as well.
Customer-centered research and development
From the very beginning, customer engagement was paramount to whatever the CS OrthoTrac update would include. First, the team analyzed common complaints from users in order to have a starting point. Rather than letting their own observations from the first round of analysis determine the direction of the update, the team then went to The Exchange, Carestream Dental's free online software user community, where they asked dedicated users exactly what they would like to see changed. Using The Exchange also lent transparency to the development process — users and designers had a direct line to each other. The team solicited feedback through polls; and when the time came, an interactive prototype was released, as well as several videos that demonstrated the new workflow.
With the blessing of CS OrthoTrac users, the team focused on updating the treatment card. Rather than retreating behind closed doors, the team threw themselves into the field. Collaborating closely with an advisory group of 12 practices, they made frequent site visits to see the burgeoning treatment card in use in a real practice environment. Once in an office, contextual inquiry and observation brought the customer deeply into the decision-making process. Rapid iterative design allowed the team to be nimble and incorporate user feedback quickly. While visiting a practice, the designers could make an immediate update to the prototype based on user feedback. Back at headquarters, the development team would then re-create the update in the real product.
The CS OrthoTrac Pit Crew in action at AAO 2017
Taking the software for a test-drive
The real test of the new update came at the AAO's 2017 Annual Meeting; it was time to put the treatment card through its paces. Dressed in coveralls and calling themselves the "CS OrthoTrac Pit Crew," the team invited every attendee to take a "test-drive on the OrthoTrac." The crew solicited feedback from more than 400 attendees. Much of what was showed at AAO was experimental — to give the team an idea of what to work on next. A new banner design definitely resonated with orthodontic professionals, and the ability to track clear aligners was highly valued by users. The team returned from the show feeling validated, but also knew there was more work ahead of them, such as implementing changes to the treatment card history. In fact, the treatment card that was eventually released looks very different from what was shown at AAO.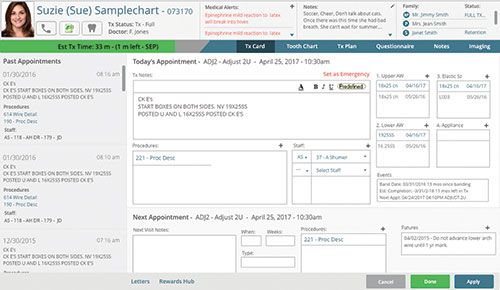 Treatment card prototype before AAO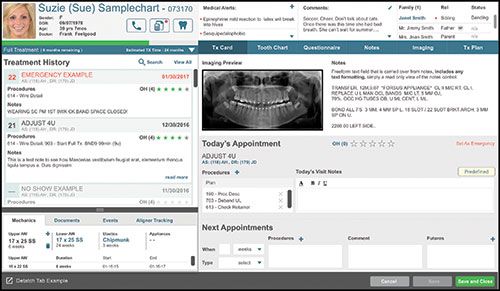 Treatment card prototype after AAO, based on attendee feedback
Today, the redesigned treatment card focuses on one of the most used parts of the software: the clinical space. Care was taken to preserve current functionality while adding a premium viewing experience and improving workflows. We've added new features such as a compliance tracker called the Patient Insight Panel (PIP) where clinicians can respond to conditions that may contribute to longer than expected treatment durations. The new version also enables the user to launch (and layer) family members' treatment cards — a long-awaited feature that elegantly helps handle family appointments. The "combo-box" section is now more robust and keeps track of "duration in the mouth" archwires, elastics, and appliances. Controls have also been upgraded, so it is now possible to add and track more than one element of the combo-boxes at a time. Lastly, the redesigned clinical space makes it possible for doctors to track details for aligner patients.
Development of the new Treatment Card was a true team effort among developers, designers, and hundreds of CS OrthoTrac users. Constant feedback and complete transparency ensured that the latest update is something that orthodontic practices not only need, but also want and are excited to start using. Ultimately, practice management software is more than just 1s and 0s; it's about users achieving absolute comfort, so they can perform their jobs with confidence.
Please Note: All patient data shown is fictitious and for illustrative purposes only. This information is provided by Carestream Dental.