Editor's intro: EverSmile is an easy and effective way to clean clear aligners.
One of the most frequent questions patients undergoing Clear Aligner Treatment ask is, "How do I keep my aligners clean and fresh?"
In 2012, Dr. Michael Florman, an orthodontist, and top Invisalign® provider, continued hearing the same question from his patients. He contacted his Invisalign representative and asked her what Align Technology recommended for cleaning aligners. His representative told him that the only products available were appliance soaks. He began telling his patients this, and they told him "no, you don't understand; how do I clean and freshen my aligners while on the go, at work, after a snack, or after a meal!"
EverSmile® WhiteFoam™
To solve this problem, Dr. Florman invented WhiteFoam™, the first and only on-the-go, wearable aligner cleaner. Gone are the days of soaking, replaced with an easy-to-use foam solution that patients simply apply to aligners, wear, and go. EverSmile® WhiteFoam™ combines hydrogen peroxide and oral care surfactants and cleaners into a foam that cleans clear aligners, retainers, attachments, and teeth.
To use WhiteFoam™, patients remove aligners from their mouth and apply the foam to the inside of the aligners, spreading the foam to cover all areas before reinserting. Any excess foam is spit out, and the procedure is complete. No waiting, no rinsing, no soaking. Just clean and go. The foam dissipates on its own naturally and quickly without leaving residue. The minty flavor tastes great, unlike other aligner cleaning products.
WhiteFoam™ is easily applied to aligners twice daily and can be used in the mouth (while the patient is wearing the aligners), or outside the mouth (while aligners are in their case). The formula is gentle on the teeth and gums, causing no sensitivity, and offers patients a value-added effect of whitening their teeth while they align them. The gentle whitening effect of the hydrogen peroxide penetrates through tooth enamel under any aligner attachments, so there will be no visible discoloration when the attachments are removed.
EverSmile® WhiteFoam™ is compatible with all clear aligners such as Invisalign® and ClearCorrect®, and all vacuum-formed plastics used to make Essix®, Invisalign® and Vivera® retainers.
Since EverSmile's official launch in 2014, over 1 million bottles of WhiteFoam™ have been distributed to patients by thousands of dentists and orthodontists worldwide. Doctors can either purchase WhiteFoam™ to resell it to patients, or refer patients with coupons to CVS®, Amazon, or the EverSmile® website.
With the success of WhiteFoam™ on its shoulders, EverSmile® set out to tackle an even larger group of patients: those wearing braces.
EverSmile® OrthoFoam™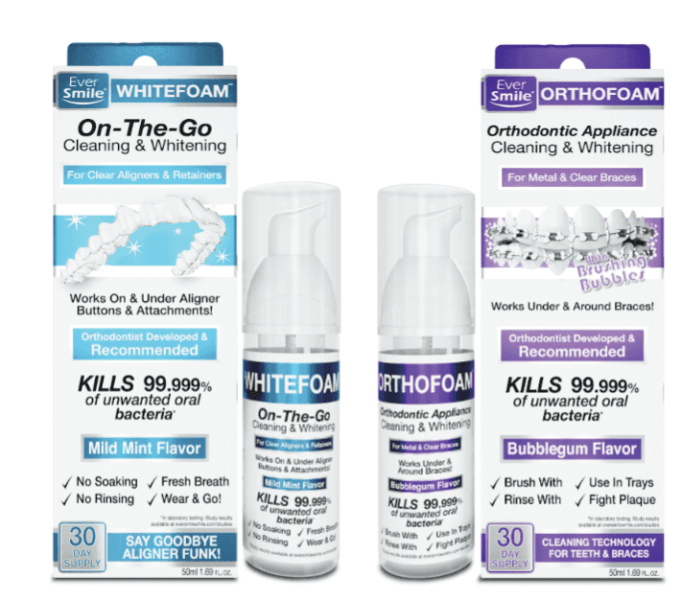 OrthoFoam™ is a patent-pending hydrogen peroxide, anionic cleaning formula for braces and teeth that removes plaque by breaking it down. OrthoFoam™ can be used three different ways:
As a foaming rinse in conjunction with brushing.
As an add-on "brushing booster" used alone or with your regular toothpaste.
Applied to teeth in custom or stock dental trays, which is the most effective method.
Give kids a boost with OrthoFoam™, the fun way to clean braces. Orthodontists can either purchase and resell the product to patients, or give patients coupons redeemable at CVS® and Amazon.
Cleaning aligners and braces, however, is just the beginning of EverSmile's story.
FastTrack™ with VibraSeat™ Technology
FastTrack™ is a revolutionary new device that enhances and accelerates the seating of aligners and alleviates the pain associated with orthodontic treatment at a price you and your patients can afford. The FastTrack™ vibrating elastomeric PowerChew™ vibrates at 300Hz, aiding patients undergoing orthodontic treatment in seating their orthodontic aligners in only 2 Minutes Daily™.
Patients use the device in the morning and evening for 1 minute each. FastTrack™ is available for just $99 each to professionals with a suggested retail price of $199 to patients.
OrthoChews™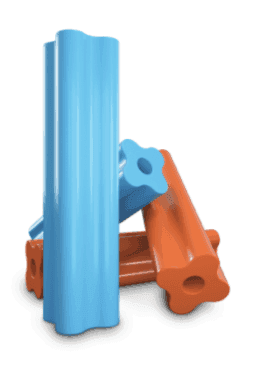 Last but not least, EverSmile® has redesigned the age old "Chewie." During the research and development of the FastTrack's PowerChew™, EverSmile® discovered that patients desired Chews with different hardness based on personal preferences. In Q1 of 2019, EverSmile® will be officially launching the first patent-pending OrthoChews™ set, which will include two color-coded chews with soft and medium hardness. OrthoChews™ will also premier EverSmile's new "flower shape", which helps the chew stay in place when biting on it. OrthoChews™ also are made using medical grade platinum-cured silicone, which enhances patient comfort as compared to less expensive elastomerics currently used.
Get in touch
To learn more about EverSmile® products or to place an order, visit doctors.eversmilewhite.com with the passcode "whitefoam" to enter our Doctor's Portal. Or you can send us an email at info@eversmilewhite.com or give us a call Monday to Friday 8 a.m. to 6 p.m. Pacific Time at 855-595-2999.
Read more about EverSmile, and see how it can help your patients kill 99.9% of unwanted oral bacteria from plastic tray aligners and retainers here.
This information was provided by EverSmile®.