Editor's intro: For noticeable plaque reduction, improvements in gingival inflammation, and reduction in gingivitis, EverSmile® OrthoFoam® pledges to enhance cleaning efficiency of toothpaste and mouthwash. Find out how — step by step. 
A few years ago, an orthodontist approached EverSmile® at a trade show and asked if we could develop a product that would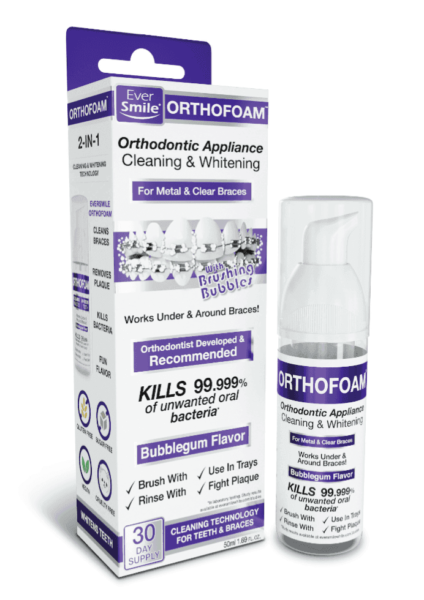 enhance patients' brushing while wearing fixed orthodontic appliances. We had already developed an aligner and tooth cleaner called EverSmile WhiteFoam, which was a big success with aligner patients, but had never thought about a product to enhance the cleaning efficiency of toothpaste and mouthwash.
Dr. Michael Florman, our research and development specialist, decided to take on the challenge. Knowing that oral hygiene issues with braces patients was one of the top problems facing the orthodontic profession, he began testing formulations that would achieve a list of the following objectives:
Safe for children of all ages since the majority of patients wearing braces are children;
Effective by killing bacteria and breaking down biofilm;
Used with toothpaste and/or as a booster to toothpaste by enhancing toothpaste's cleaning characteristics;
Able to fight gingivitis associated with patients wearing braces;
Last but not least: Taste good and be fun for kids to use.
Dr. Florman began gradually testing various low levels of hydrogen peroxide on patients wearing braces, and found that he was able to increase the percentage of hydrogen peroxide close to 4% without any patients experiencing tooth sensitivity or negative soft tissue effects. At this level of hydrogen peroxide, Dr. Florman noted decreased plaque around brackets and wires, improved gingival health, and tooth whitening over and under the composite resin used to affix the brackets, as compared to a control product using 1.5% hydrogen peroxide with the same surfactants and cleaners.
In a retrospective study that Dr. Florman performed on aligner patients with composite resin attachments (buttons), using the formula in EverSmile's WhiteFoam, it was noted that teeth whitening occurred even under the attachments.
OrthoFoam was soon launched in the dental market in 2017. OrthoFoam allows patients to brush with the product alone, or in conjunction with their favorite toothpaste. OrthoFoam can also be used as a therapeutic mouth rinse alone and can be placed into custom or foam trays for patients to apply at home on a daily basis. Doctors who use OrthoFoam report that after 4-6 weeks of use, a noticeable plaque reduction is noticed with improvements in gingival inflammation and reduction in gingivitis.
OrthoFoam step-by-step instructions
Brushing
Dispense 1/2 to 1 full pump of foam inside the mouth or on your toothbrush. Brush teeth for up to 60 seconds. Spit out foam, and rinse mouth with water. Can be used as a stand-alone cleaner/whitener or in combination with any fluoridated toothpaste. Add OrthoFoam to your toothbrush (with toothpaste), or pump directly into your mouth as you brush.
Rinsing
Dispense 1/2 to 1 full pump of foam inside mouth and swish for up to 60 seconds. Then spit out foam, and rinse mouth with water.
In trays (custom or disposable)
Dispense 1 or 2 full pumps of foam into trays, and apply to teeth for 3 minutes. Stand over sink during treatment, spitting out excess foam. Do not swallow. After 3 minutes, rinse with water. Repeat once or twice daily. Trays are available at eversmilewhite.com/trays.
Get in touch
To learn more about EverSmile® products, get free patient coupons (available at CVS), or to place an order, visit doctors.eversmilewhite.com with the passcode "orthofoam" to enter our Doctor's Portal. Or you can send us an email at info@eversmilewhite.com, or give us a call Monday through Friday 8 a.m. to 6 p.m. Pacific time at 855-595-2999.
This information was provided by EverSmile®.
To find out more about how to enhance cleaning efficiency for teeth and orthodontic accessories, visit here.