Editor's Intro: Damon™ Q2 — Ormco's passive self-ligating bracket system with 2x rotation 
2x the rotation control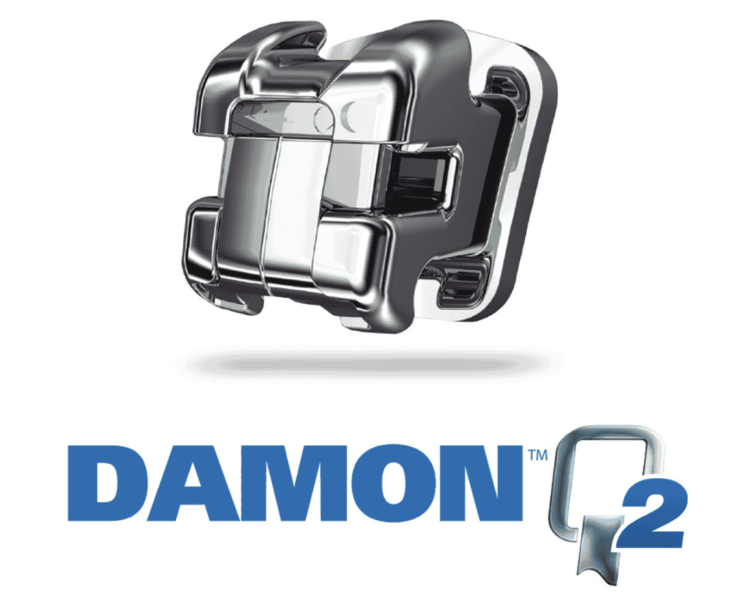 For several decades, the orthodontic industry has undergone rapid and significant change, especially when it comes to the evolution and growth of passive self-ligating (PSL) bracket systems. Over the years, with each bracket advancement, manufacturers have kept one goal consistent: improve treatment efficiency while providing patients with optimal comfort. Despite the breakthroughs with self-ligating systems in terms of efficiency and productivity, there are natural and inherent challenges and technical nuances that need to be addressed. With passive self-ligating brackets, some orthodontists may struggle with a lack of rotational control or the absence of tie-wing space, making it difficult to insert power chains underneath the wire. With that in mind, optimal rotation control is something that today's clinicians demand and desire.
Now, following years of dedicated research and development through customer collaboration, Ormco Corporation, a leading manufacturer and provider of advanced orthodontic technology and services, is pleased to unveil the newest addition of the Damon System — Damon™ Q2 (DQ2). The new bracket system features 2x the rotation control,1 providing clinicians with the versatility to help efficiently treat all cases with simplified mechanics. DQ2's superior control allows for heightened treatment reliability,2 efficiency, predictability, and flexibility. DQ2 arms clinicians with the treatment solution needed to help them efficiently and effectively care for patients to the best possible smile result.
Key product features of DQ2 include:
2x improvement in rotation control — DQ2 provides four solid walls with a refined precision slot and 2x the rotation control for optimal precision, predictability, and efficient finishing. Arming doctors with 2x rotation control helps provide them with the toolset needed to treat all cases with the utmost confidence and bracket reliability.2
Enhanced tie-wing design — DQ2 provides ample under tie-wing area3 to better accommodate all power chain, elastics, steel ligatures, and other auxiliaries for treatment versatility. Designed for heightened patient comfort and esthetics, the bracket system features a small profile and size with smooth, rounded corners.
Vertical scribe line, new drop-in hook, and modified prescription — DQ2 features a rhomboid-shaped pad and new vertical scribe line to guide desired bracket placement. The new DQ2 drop-in hook4 was designed to provide improved bending strength and durability with Ormco's elastics and auxiliaries. Additionally, DQ2 provides a modified prescription5 for upper, central, and lateral standard torque brackets, designed to deliver predictable finishing and efficient treatment.
As the PSL market leader, the Damon System offers a combination of PSL brackets, light force archwire sequencing, and minimally invasive treatment protocols used to successfully finish over 6.5 million cases.
To learn more about DQ2, please visit www.ormco.com/products/damon-q2/ or connect with your Ormco sales representative directly for more information.
This information was provided by Ormco.
Learn more about passive self-ligating bracket systems!
The passive self-ligating bracket (PSL) system is a trending topic in the orthodontic practice. Check out
this case study
 by Drs. Michael Choy and John Burnheimer.
References
+2x U3-3 compared to original DQ bracket
Compared to other Damon Systems
Damon Q2 compared to Damon Q
New drop-in hook coming in Q4 2018
Standard Damon 3MX prescription
Internal data on file.