Editor's intro: Boyd's products for the orthodontic office offer excellent craftsmanship, durability, and attention to detail that reflect the company's 60 years of design and manufacturing expertise.  
"Built to Last. Built for You. Built by Boyd" is more than a tagline; it signifies the commitment that everyone at Boyd makes to each and every one of our customers. Best known for the durability and reliability of our award-winning products — including treatment chairs, mobile storage, and clinical cabinetry — we combine over 60 years of design and manufacturing expertise to perfectly fit your unique space and personal style. We take great pride in the craftsmanship and longevity of all products built at our U.S.-based facility, so you can take pride in your office for years to come.
Learn more about our featured products
The M3000LC Exam and Treatment Chair is Boyd's most popular option among orthodontists, combining affordability, function, and a wide variety of practical features including all-steel frame construction, ergo-nomically designed winged back, low-voltage DC motor actuators, integrated full function foot control, snap-on upholstery, and choice of seven headrest styles. What makes the MC3000LC perfect for your everyday use? Its motorized column base with 8″ vertical lift allows the chair's height to be adjusted for maximum ergonomic positioning, ensuring your comfort as well as your patients' comfort.
Perfect for orthodontic consultation rooms, the award-winning M3010 Series Exam and Treatment Chairs' synchronized drop-toe design provides your patients with the most natural seated position during consultations or minor exams. Like the M300LC, these chairs come standard with all-steel frame construction, ergonomic winged backs, integrated full-function foot control, and more. Enhance these chairs with Ultraleather Pro™ upholstery and Memory Foam cushioning for maximum comfort.
To complement your exam and treatment chairs, Boyd offers 10 standard Delivery Unit models for chairside, rear, or concealed delivery. With a nearly limitless selection of laminate colors and grains, these units combine functionality, efficiency, and style. Choose standard or square back models, depending on your unique storage and space requirements. We recommend starting your search with the CSU-356 Delivery Unit, which offers ample storage in a unit less than 25″ wide.
The BOS-279, Boyd's most popular Doctor/Assistant Seat, offers an ergonomic saddle seat, adjustable seat height and tilt, and a floating lumbar-support back. You'll find a perfect fit with the seat's wide range of possible adjustments. Like our patient chairs, Boyd's doctor/assistant seats are designed with your long-term comfort and spinal health in mind.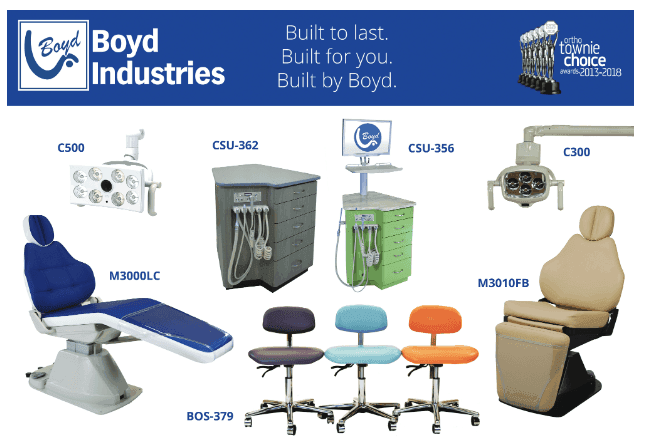 Once you've chosen your seating and storage solutions, complete the picture with Boyd's LED Exam Lights, which provide the latest in operatory light technology. Their cool, power-efficient, and reliable LEDs emit clear and natural white light for maximum visibility. Choose the C300 LED Exam Light for its clear and natural regeneration light technology, with an IR sensor with intensity up to 30,000 LUX and 95Ra rendering, three-axis head movement, and adjustable, sterilizer-safe hand grips. Choose the C500 Camera Exam Light for its built-in HD video camera, hands-free operation, selection of three different color temperatures, and more.
The Boyd team has made every effort to create specialized products that are truly "Built for You." These featured ortho-dontic products can be combined with Boyd's custom clinical and office cabinetry — with nearly limitless combinations of color and print laminates — to create a fully cohesive office space. When you work with the Boyd team, we recognize your unique needs and offer the widest range of personalization options in the industry, so feel free to consult your sales representative about your specific needs. Call today, or request a quote online to get started!
To learn more, visit us at www.boydindustries.com. You can also follow us on Instagram and Twitter @BoydIndustries.
Boyd Industries is an ISO 13485:2016 certified company.
This information was provided by Boyd Industries.
It's the craftsmanship and the craft that combine to create a thriving orthodontic office. Read about Dr. Marc Olsen and how his craft helps him to live up to his potential.