Editor's intro: 3Shape Clear Aligner Studio gives orthodontists control over diagnostics, setup, staging, and all aspects of clear aligner production workflow.
The innovative all-in-one clear aligner software solution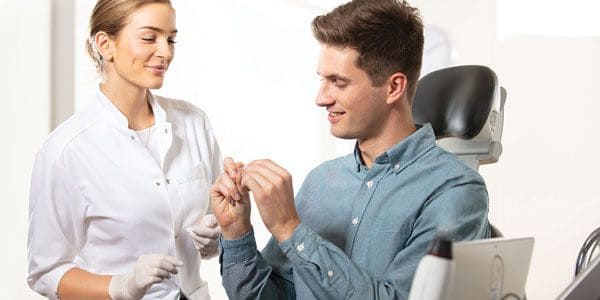 3Shape, a leading global innovator of digital 3D solutions for dental labs and practices, is changing dentistry by developing innovations that provide superior dental care for patients. In 2018, 3Shape launched an open clear aligner workflow that enables laboratories and practices, no matter what size, to enter the market and thrive in the attractive and profitable clear aligner market.
With 3Shape Clear Aligner Studio, clinicians have the power to make aligners in their own offices, reducing patient waiting time, and increasing business by offering cost-effective and time-efficient same-day start of treatments. Clear Aligner Studio offers full control over orthodontic diagnostics, setup, and staging, and clear aligner production workflow. The Clear Aligner Studio digital workflow is made possible by the 3Shape TRIOS® intraoral scanner and offers seamless integration with a wide range of 3D printers.
The intraoral scanner is supported by an ever-growing number of patient-excitement apps like TRIOS Treatment Simulator, TRIOS Patient Monitoring, and 3Shape Smile Design. The digital impression solution is recognized for its documented accuracy, scanning speeds, and ease of use. In addition this provides the opportunity for digital indirect bonding, which allows for digital treatment planning through guided and preference-based workflows, while reducing excessive materials and time spent on treatment planning. Digital indirect bonding improves patients' experience and comfort, and saves chair time by bonding all brackets in one go, instead of applying brackets one by one with direct bonding.
The open and innovative 3Shape clear aligner workflow is made up of a growing network of integrated design and production service-providers supported by 3Shape technology. Depending on the expertise of the lab or practice wanting to provide clear aligner treatments, they can either outsource design and production to 3Shape partners, and/or design and produce in-house using 3Shape orthodontic software. 3Shape offers one of the largest number of integrations and partnerships and can connect users with an unrivaled range of collaborative workflows, design services, integrated bracket libraries, customers, and interfaces to virtually all manufacturing equipment and materials. TRIOS provides orthodontists connections to new clear aligner providers such as 3M™ Clarity™ Aligners, Orthocaps®, and ClearCorrect.
3Shape TRIOS is the proud winner of the Cellerant "Best of Class" award for a record-breaking 6 years in a row. Orthodontists recognize the value of integrating this system in their practice workflow. Dr. Christian Groth, a Diplomate of the American Board of Orthodontics since 2012, noted, "Clear aligners are changing what we do. Because it's bringing a whole new segment of patients to our office. There's a lot of people who want to have orthodontics, but they don't want to have metal braces and so; we have options now to offer treatment in a much more esthetic and streamlined fashion. Clear aligners are the primary way we do that. In my practice, moving aligner design and production in-house has been one of the greatest things we've done. It affects a lot of things we do; turnaround time is a major benefit."
Getting started with in-house aligners can be as simple or as advanced as the orthodontist wants to make it. You can bring the design and production of aligners in-house with software like Clear Aligner Studio, or bring a 3D printer online, and fabricate in-house. Or if you want to go more slowly, simply outsource the design and/or manufacturing portion just to deliver the treatment portion to your office. Feel free to mix and match, depending on you and your staff's skill set and space requirements.
Shape your practice's future with 3Shape's clear aligner treatment planning, design, and production prep. To learn more about how 3Shape can help you go digital today, visit www.3shape.com.
This information was provided by 3Shape.
Besides the 3Shape Clear Aligner Studio, the company continually discovers ways to improve workflow in orthodontic practice. Read about their FDA 510(k) clearance for indirect bonding workflow here.