Dr. John Wise shares his strategies for creating clear aligners in-office
Albert Einstein once said that the most powerful force in the universe was the time value of money. It was powerful because of the nature of exponential growth. Double anything over a long period of time, and you will have something pretty powerful. The same is true for technology. Moore's Law, which states that computing power will double every 2 years, has continued unabated for 25 doublings. Fifty years after he made that prediction, technology is doing more things for us than ever before.
Unfortunately, as the exponential curve turns upwards, we are faced with the reality that humans think and act on a linear trajectory, and we are being left behind in so many areas of society.1 Some argue that the profession of orthodontics is a flat line with virtually no upward movement and that we've been moving teeth essentially the same way as my father did when he graduated from orthodontic school in 1958.
The world changed dramatically in 2007. In January of that year, Steve Jobs unveiled the iPhone® at the annual stockholder's meeting for Apple®. Jobs' company had been struggling in the years leading up to that announcement. Now Apple is one of the most valuable companies on the planet, and its iPhone literally has changed the world.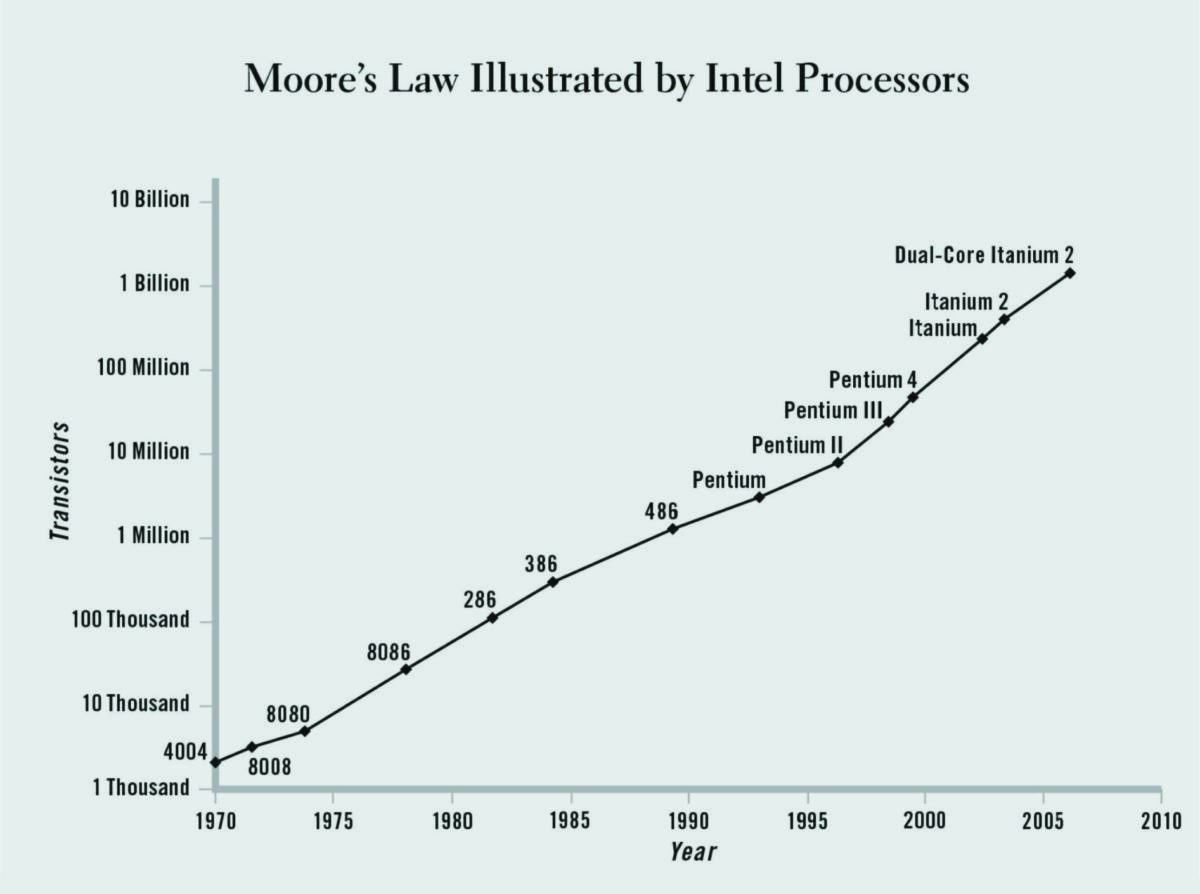 Figure 1
A similar technological breakthrough occurred in 1998 when Align Technology introduced CAD/CAM orthodontics to our specialty. At that time, the company was using 1998 technology to create a new way of proposing tooth movement and a robotic process to create clear aligners, which had been done old school with plaster models prior to this time. Orthodontics would be changed forever.

Figure 2

Figure 3
Now with 10 more doublings of technology under our belt, orthodontists have the capability of mimicking the CAD/CAM process for tooth movement in our own offices. Every tool needed for aligner design and production is available to us with a tiny investment of capital but a large investment of time and critical thinking. The dashed line in the drawing in Figure 3 represents our practices' needed trajectory to get up to speed with the rest of the world. Relying on third-party technology companies that spoon-feed us remnants of 1990s' technology so they can maintain market share is so old school. We must be more prepared than Kodak when digital photography began to threaten traditional film. That was in the 1980s when Kodak missed that jet plane to the future.
In previous articles,2,3 I laid out clear methods for technology needs and even workflows for offices to move into the realm of clear aligner design and production. Individually, we need to get up to speed to move the line. This article will delve into another of my favorite topics: aligner staging.
Once you have settled on your software for moving teeth and creating STL files (I like suresmile® elemetrix™ from OraMetrix), you'll need to become expert at staging. Creating the final result is the easy part. Computer algorithms can do this pretty well. The hard part is figuring out how to get from point A (crooked teeth) to point B (straight teeth). That's staging, and it requires a keen mind and an excellent imagination.
Third-party companies will have us make a limitless number of aligners for each case, spoiling our inventive spirit and ability to be creative when moving teeth is involved. Orthodontists are still the best at imagining how teeth need to move to achieve a result. Artificial intelligence is catching up, but it will be a few years before it passes us. You have time to apply this tooth movement stuff to clear aligners.
Most of my cases involve some amount of simple movements such as bucco-lingual, small rotations, intrusion, or space closure. Clear aligners do great at that with just a small amount of thought and planning. The complex movements such as tipping, large rotations of round teeth, extrusion, and bodily movement take an orthodontist's brain to achieve success. My cases are full of these, too. As you examine your patient, you need to realize what it is you are looking at. By the way, this is something that an at-home impression or kiosk scan will never be able to do — to mimic the eye of a trained orthodontist.
You'll discover a world of cases full of simple movements in which clear aligners can perform beautifully and at a fraction of the cost of conventional bracket and wire treatment. You'll also see some cases that will need various auxiliaries to move teeth in a complex manner. Many modern software programs allow you to create "attachments" virtually and then create them in your aligner set. Other auxiliaries, like buttons for elastics, even brackets and wires, can also be added at your direction.
Bodily movement and tipping
To move a tooth along an arch form in the mesio-distal realm (bodily movement) or to tip a tooth, you need contact with as much of the tooth as you can get your arms (clear plastic) around. You need space mesial and distal, so the plastic can grab that tooth and move it, roots and all. So, in cases where you have some of this, stage the case so those specific teeth that require bodily movement or tipping will have spaces available before you attempt the movement. Clear aligners can achieve bodily movement and tipping very effectively, but you need to be aware of this necessary factor. No attachment can re-create the same physics as circumferential contact of plastic to tooth. It's not as good as braces and wires, but it "ain't" bad.
Large rotations of round teeth
Good luck getting this with attachments. You'll need an auxiliary and some good ol' latex stretched out to create force where you want it. Custom trimming of the aligner in your in-office lab will do the trick. Make no attempt to rotate these teeth until you are ready with your staging. Then deliver your custom-trimmed aligners so that a small, smooth button can be affixed to the tooth in question. Attach a chain or instruct the patient on how to attach an elastic. The teeth can't tell the difference. And they will rotate for you. Get ready. Once in position, remove the auxiliary and deliver aligners without the cutouts.
Extrusion
Nothing can extrude a tooth as readily as good ol' fashioned brackets and wires from the pre-iPhone era. But our modern patients are not digging that method right now. The young hipsters all want to go to brunch with their cool friends, and they do not want braces, doctor! You'll need to stage your aligners in such a way that the extrusion you seek is re-created in an aligner so that the teeth in need of extrusion can be guided there by an elastic. You'll need some more auxiliaries attached to the teeth at the appropriate locations and well-educated patients who can apply the elastics right after they are done with brunch.
This is one place where I am a fan of attachments. They have minimal chance of creating extrusive forces, but a great chance at holding those teeth there once extruded. A simple ovoid attachment and an accompanying aligner will do the trick. Leave the blob of composite there for as long as the hipsters will let you. They don't like to sport attachments during brunch either, doc.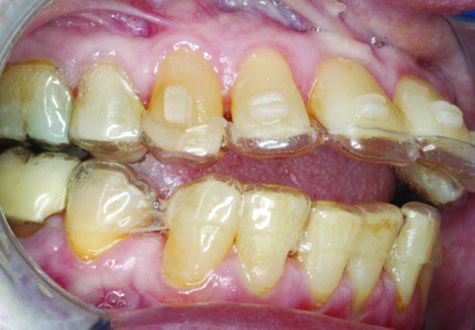 Figures 4 and 5: Lateral extrude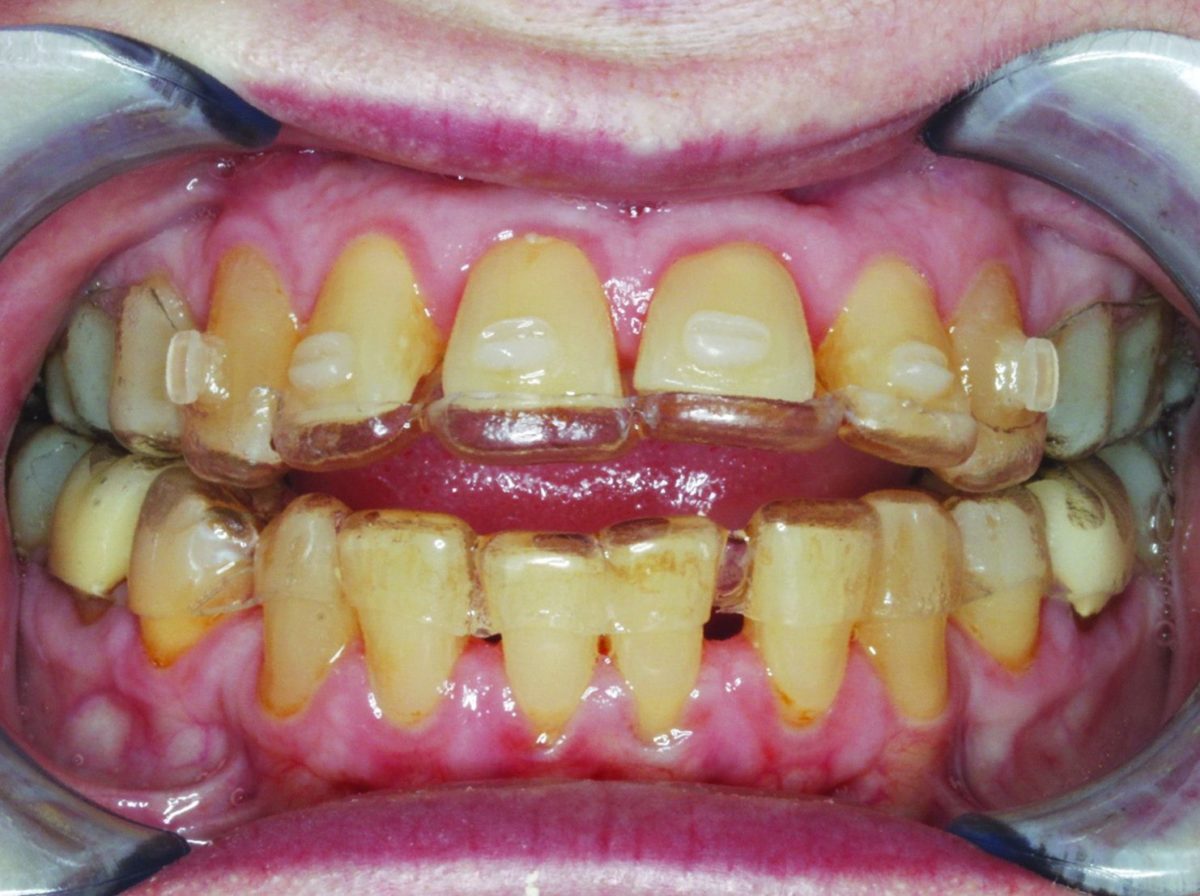 Figure 6: Extrude

Figure 8: Extrude final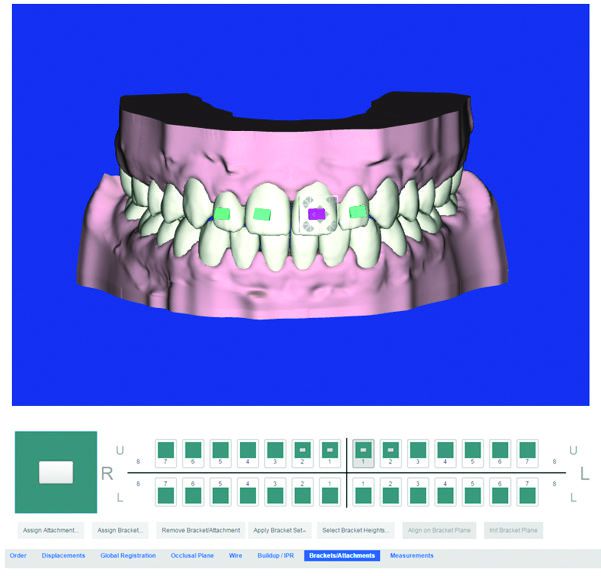 Figure 7: Attachments

Figure 9: Elastics, buttons, and custom trimming
Crowding
Most of my clear aligner cases involve eliminating crowding of some amount. Those easy cases handled with an at-home impression or kiosk scan are great at this. The hipsters stopped wearing their aligners while they were brunching through college, so a lower incisor jumped out of place. Do you want to treat these cases, or would you prefer them treated by some nameless, faceless technician who wants to be you? Get good at doing these cases so you can compete on cost and blow the hipsters away on results.
Staging these cases to expand the arch with a 3:1 ratio of bodily movement to positive torque is your answer (0.3 mm buccal, 1 degree torque). As we move a tooth digitally in the purely buccal direction, we have to know in our orthodontic brain that the tooth is also going to tip buccally (that's the positive torque part) in the mouth. Plan for it with your staging, and allow the aligners to fit all the way through your staged movements. An aligner that fits well can move the teeth as you want, mostly.
IPR can also help you here, but remember that no hipster enjoys having his/her teeth sanded down interproximally. Do a little expansion/torque. The IPR eliminates tooth collisions, which is computer speak for teeth that can't rotate inside a shell of plastic because there's no room. Teeth need a place to move into, or they'll just stay where they are. Remember, the at-home services or kiosk scanners do not have the ability to perform IPR, and they will use that fact against us in their marketing. "Orthodontists file your teeth down," they will claim. "At Kiosk Aligner Company, our magic system does not require this." Hmmm. Whom will the young hipster believe?
My challenge to you is to create staging for the in-your-office clear aligner method that dramatically reduces the number of aligners you will require to treat a case. Limitless aligners have spoiled us into believing that we must rely on Clear Aligner Company for their 1990s' era technology spoon-fed to us. With 2018 technology, orthodontists can do it better, faster, and less expensively. And, as an added benefit, we'll have time for brunch.
References
Friedman TL. Thank you for being late. An optimist's guide to thriving in the age of accelerations. New York: Picador; 2017.
Wise J. Keeping the "special" in the orthodontic specialty: part 1. Orthodontic Practice US. 2017;8(3):30-34.
Wise J. Keeping the "special" in the orthodontic specialty: part 2. Orthodontic Practice US. 2017;8(4):8-14.