Dr. John Wise discusses how technology can help specialists to "own" orthodontic treatment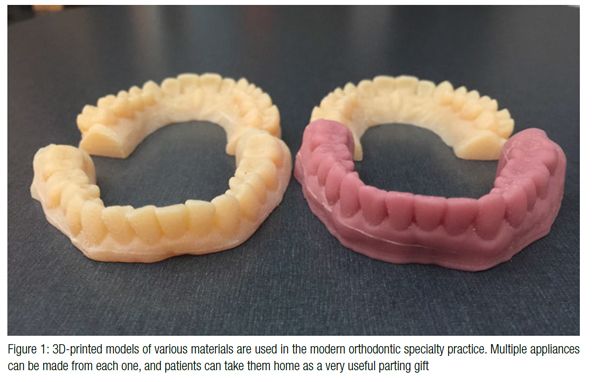 Consider this article a call to action. With the advent of clear aligner technology, the orthodontic profession is facing increased competition from nonspecialists. Although clear aligner therapy has provided an alternative to more traditional orthodontic treatments, it has also caused some patients to overlook the fact that orthodontics is a specialty for a reason — and that moving teeth is serious business. There is no question that clear aligners can move teeth. The question that still remains is whether or not the consumers of orthodontic services in the future will seek out an orthodontist to assist them in that endeavor.
Already extensive marketing portrays the general practitioner as capable of delivering a quality service. Add to that the fact that the final plan of roughly 50% of cases submitted to technology companies are accepted without changes by the submitting doctor. The technician designs the aligner sequence, manufactures the aligners, and controls the delivery of care. In the future, will patients think they are able to straighten their teeth without even a GP's guidance?  Can the consumer "do-it-yourself"? Some aligner companies think consumers can since they recently aligned themselves (pun intended) with DIY providers.
While "facts are stubborn things," what's more important in this discussion is perception — specifically, perception by the consumer. The profession needs to evaluate the long-term effect of $100 million in direct-to-consumer advertising, year after year. How will we counteract this behemoth from Madison Avenue? As an orthodontic specialty practice, you need to be the master at clear aligner therapy. We should all be able to do it efficiently, fast, and cost-effectively. Patients should not even consider allowing their primary care dentist to move their teeth, just like they'd never allow their family doctor to perform heart surgery or a knee replacement. We are specialists. Make sure the consumers in your community know that there is a difference.
"We must all hang together, or most assuredly we will all hang separately." — Ben Franklin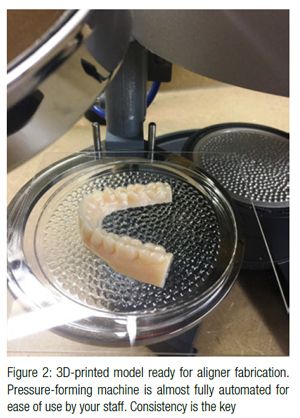 First and foremost, orthodontists and their teams need to be the experts in moving teeth — not only moving teeth in the literal sense but also in the virtual sense. We must all become experts in at least one software product that can allow us to move teeth virtually, print 3D models, and store the final result for our patients' future. We can no longer rely on technology companies to spoon-feed us their concepts that allow us to become only minimally involved in the process of straightening teeth. We have to be the doctor and the technician to oversee the care delivery system. And we have to be able to deliver quality results in a timely fashion all at an affordable price.
Numerous companies want to empower orthodontists to treat their own patients. Search out those companies, and support them. Your shopping list needs to include an intraoral scanner (or two or three), a CBCT machine, 3D software with CAD/CAM capability, a 3D printer, a pressure-forming machine, and the tools to trim and smooth aligners. And don't forget the packaging. Your patients will feel better about your care if they walk out of your office with a nice bag or box for their aligners. You, the orthodontist, need to oversee the quality control of the process from the beginning to the end.
The model makes the case
Having treated thousands of clear aligner cases since the late 1990s with various methods, I can tell you with certainty that my favorite way to treat these cases is the way we do them today. It's hard to describe completely, but I can assure you that a major differentiator for a smooth care cycle is having access to the 3D-printed models. Patient loses an aligner?  No problem. Make another one. Aligner material gets distorted?  Make another one. Need some modifications to a model to keep the teeth moving?  Do it. Patient has special needs for aligner trimming?  No problem. Custom trimming is easy. Aligners can be used in unique ways to help you move teeth. Cutouts and buttons for elastics can all be added at various points in the care cycle, but not if you don't have the models available. I can't express how valuable it is to have the models for each and every aligner case!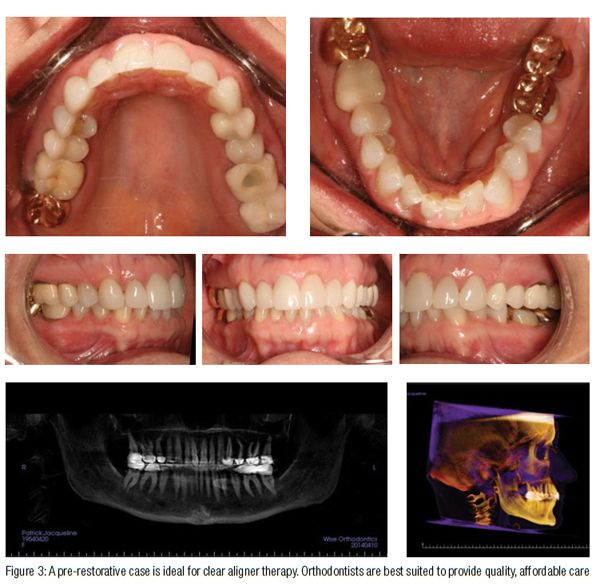 These models are extremely durable and capable of being used for several aligners before they get damaged. The final model can be given to the patient as a parting gift with simple instructions on how to bring it in for a new retainer any time (or anywhere) in the future. Patients love this feature. You are the hero, and the only office in town that can do this for them. It makes your office unique.
In your office (IYO) clear aligners
Our protocol starts with a thorough clinical exam. As any specialist knows, not every malocclusion is a candidate for clear aligner therapy. And every parent of a teenager needs to know that their kid probably won't wear the aligners like they promise they will. You need a full complement of fully erupted teeth to move them with clear aligners. Axial inclination is tough with clear aligners. So is extrusion. Short, small teeth (like upper lateral incisors) are hard to move with clear aligners. Beware of these issues, and be careful to not over-promise.
Once you and the patient are feeling good about treatment, finalize the financial agreement. One of the greatest things about in-house clear aligner therapy (other than the superior results in my hands compared to all of the outsourced, technician-driven services) is the dramatically lower cost of production. Since you're not allocating half of the fee toward marketing veiled as "R and D," you can charge a very reasonable fee and still maintain all of your profitability.
Then get an intraoral scan. Don't let your orthodontic technician stop until it's perfect. The new scanners can accomplish this in about 3 minutes per arch. And that's getting better every day. We use the monochromatic TRIOS® scanner (3Shape) paired with a fully loaded AlienWare laptop and a mobile cart. Your teenage patients will think you are so cool!  A quality panoramic film sent over from the GP or captured at your office will suffice for radiographs, in my opinion. Rarely is a ceph required for these cases (unless you just really like cephs for your liability protection). Get your standard set of intraoral photos along with any special shots that will assist you as you treat the case virtually.
Now the fun begins. Your TechC — technology coordinator (yes, your office needs one of these just as we all needed treatment coordinators — TCs — back in the 1990s) uploads the case to your software of choice.  We use suresmile® by Ora-Metrix for both clear aligners and robotically bent wires for conventional care. They also have their elemetrix™ product, which houses only the clear aligner and indirect bracketing capability. There are other software suites out there as well. Buy or lease your own, and learn how to use it. Moving teeth on the computer is fun, and you'll be amazed at all of the stuff you were missing before. Computers don't have saliva, lips, or tongues to block your view of the teeth. Let your TechC have a go at the alignment first, and you finalize the result the way you want based on your understanding of the case including any limitations you or the patient placed on the results.
Once you have the final result established, you have to put your orthodontic brain in full gear to now design the aligner sequence to accomplish your goals. This is no different from how you sequence your conventional cases today. It's doctor work. Computer algorithms are great at this, but nothing beats the brain of a well-trained specialist to create an ideal aligner sequence. For the most complex cases, doctor time is about 20-30 minutes. On simple cases, your time will be less than 5 minutes.
Once the number of aligners exceeds 20 per arch, the math starts to turn around on you, and using a 3rd party starts to make some sense. For the past 2 years, since I started doing IYO clear aligners, I have not seen one case that I needed to treat with a 3rd-party company. Those are the tougher cases that generally get braces in my office or 3rd-party clear aligners in someone else's office. For those simple cases where the patient went off to college, forgot her retainers, and her teeth moved a little, IYO aligners are a no-brainer. Industry analysts tell us that there are 20-30 million folks out there who fit this scenario "post braces with minor shifting." Our specialty must re-commit to treating these cases and stop abdicating their care to the GPs or the DIY crowd. We have to own it!
Some tech-savvy doctors are even using IYO clear aligners to finish their conventional cases. The appointment prior to de-banding is used to intraoral scan the patient. In the software, you can see exactly what is left to finish. Braces are removed virtually, aligners (and retainers) are made from that 3D printed model, patients show up for de-band, and you already have their one or two aligners and their retainer ready for them. No gooey impressions to ruin their big day. Braces, and the final few painful adjustments, are complete, probably ahead of schedule. They love you!
Don't delay your entry into IYO aligners one more day
I'm hopeful that this call-to-action article has opened your eyes to the multitude of benefits that are possible when you, the doctors, are the experts at navigating the virtual world of orthodontics. In the future, there will be three kinds of orthodontic care providers:
GPs who are supplementing their income by offering non-specialty care orthodontics.
Orthodontists who only offer braces and 3rd party delivered clear aligners.
Tech-savvy orthodontists who took the time and invested the energy and financial commitment to become expert at delivering modern ortho-dontic treatment with both of their own talented hands firmly on the virtual wheel.
You get to decide. I hope you will join the ranks of your peers who have made the virtual leap. It will be good for your practice and really good for your patients.