OrthoAccel® Technologies, Inc. launched noninvasive accelerated orthodontic treatment with the creation of AcceleDent®, the first and only vibratory treatment device clinically shown to speed up orthodontic treatment by as much as 50% and reduce patient discomfort.
The prescription-only device is used in conjunction with braces or aligners, and its patented SoftPulse Technology® produces gentle pulsating forces that are shown to speed up bone remodeling during orthodontic treatment.
Since introducing AcceleDent in the United States in 2012, OrthoAccel has grown to become the market leader in accelerated orthodontic treatment technology, has amassed a substantial portfolio of clinical cases that demonstrate the merits of its technology, and continues to introduce new innovations that enhance its device and the patient experience.

David Josza, president and CEO of OrthoAccel ® Technologies, Inc
On the heels of launching its third-generation device AcceleDent® Optima™, OrthoAccel named David Josza, an ortho-dontic and dental industry senior executive with more than 25 years of experience, to assume the role of CEO and lead the company's next phase of growth and innovation. Throughout his career, Josza has held executive level positions at dental implant and medical device companies where he was responsible for providing strategic oversight, executing new product launches, and developing creative sales initiatives that yielded business growth. After recently completing his first quarter with OrthoAccel, Josza is enthusiastic about the opportunity to further strengthen the company's leadership position in accelerated orthodontics.

Manufactured by OrthoAccel®, AcceleDent® Optima™ is the company's third-generation, vibratory orthodontic device that is
clinically shown to speed up orthodontic treatment by as much as 50% and reduce patient discomfort
"Throughout my career I've been fortunate to build long-term business success around new and disruptive technologies, and I'm excited to repeat that success at OrthoAccel," said Josza.
Josza's first priority? Traveling across the U.S. and Canada with OrthoAccel's regional territory managers and sales directors to meet orthodontists and their staff, listen to their feedback about OrthoAccel, and reaffirm the company's commitment to the orthodontic industry. While he met several doctors in their practices, Josza also had the opportunity to meet with AcceleDent providers and industry influencers at the regional ortho-dontic trade shows this fall.
"The reoccurring theme I'm hearing is that AcceleDent Optima is the best-in-class accelerated treatment technology that orthodontists and patients have been waiting for," said Josza. "That's just one piece of the puzzle though. Another piece represents the various clinical education and marketing programs needed to support orthodontists who want to offer this innovative technology to as many patients as possible. And of course, the third piece is being responsive to the pulse of the industry so that we continue innovating to enhance the orthodontic treatment experience. This is how we'll continue to grow and help orthodontists grow their practices as well."
Best-in-class innovation: AcceleDent Optima
The priority for Josza and his team is introducing AcceleDent Optima to orthodontists and patients in North America and Europe. In addition to receiving FDA clearance, AcceleDent Optima has been cleared by Health Canada and received the CE Mark that makes it commercially available in Europe.
Powered by the same SoftPulse Technology as its predecessors, AcceleDent Classic and AcceleDent Aura, AcceleDent Optima is a smaller and lighter device. Having listened to patient feedback, OrthoAccel designed many of the device's new features with enhanced patient convenience in mind. Optima is waterproof, and its small charging case enables patients to wirelessly charge the activator, which has a 5-to-7 day battery life.
AcceleDent Optima is the first and only orthodontic device that directly connects patients and practices through usage monitoring, direct messaging, and virtual awards via the state-of-the-art AcceleDent App. The app, which can be downloaded via the Apple App Store and Google Play, uses Bluetooth® connectivity to enable Optima to sync with smartphones and tablets.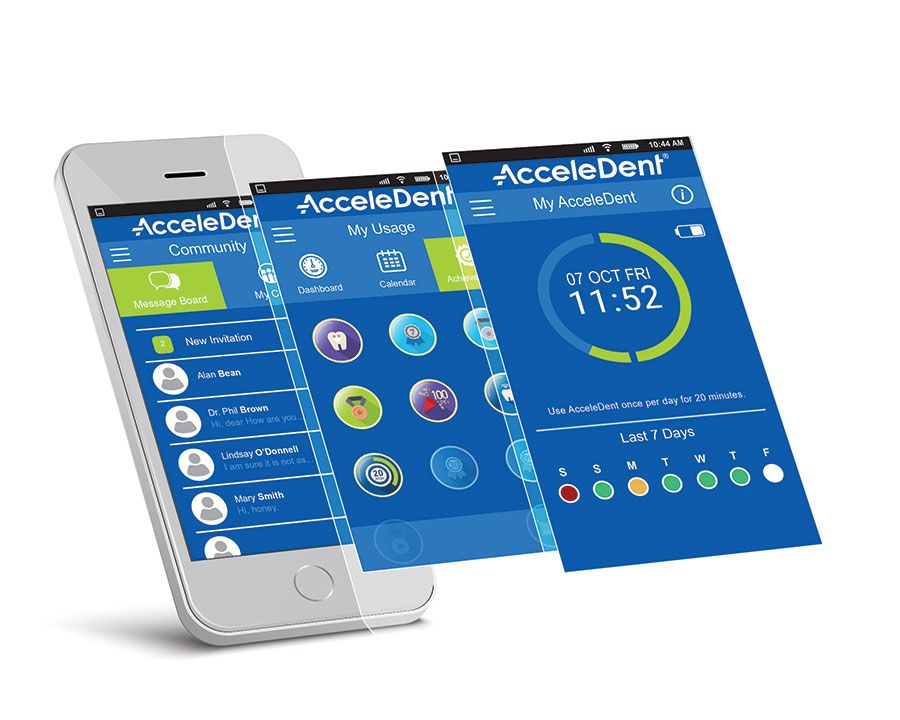 The HIPAA-compliant AcceleDent App allows patients to track their AcceleDent Optima usage, set reminder notifications, earn virtual awards, and compare their treatment progress to other AcceleDent patients across the world. Orthodontists, treatment coordinators, and other practice staff can log into a customizable web portal to view real-time usage data from the AcceleDent App
HIPAA-compliant, the AcceleDent App was designed to increase practice efficiency for orthodontists and their clinical teams while also using unique virtual awards to encourage patient compliance in a positive, engaging way. To receive the benefits of accelerated treatment, it is important for patients to use the device daily for 20 minutes.
The app allows patients to track their usage, set reminder notifications, and compare their treatment progress to other AcceleDent Optima patients across the world. Parents who have adolescents in orthodontic treatment with AcceleDent can also download the app to monitor their child's usage.
Patients who maintain optimal daily usage of AcceleDent will earn awards on the app's Achievements Screen. This added motivation is similar to badges that users earn on popular fitness tracking apps.
Orthodontists, treatment coordinators, and other practice staff can log into a customizable web portal to view real-time usage data for each of their AcceleDent patients. Access to this data enables the clinical team to compliment patients who are excelling with compliance and to encourage low-compliant patients.
Additionally, the availability of this data allows for more proactive case management, including more informed scheduling and an overall increase in practice efficiency. Orthodontists, such as Drs. Fred A. Garrett and Richard W. Boyd Jr. of Garrett and Boyd Orthodontics, have reported that integrating AcceleDent Optima and the new web portal into practice has been a seamless transition.
"AcceleDent Optima enhances motivation and buy-in from patients so much so that it translates into increased efficiency and profitability from the practice standpoint and increased satisfaction among patients," said Boyd.

The OrthoAccel case gallery includes more than 40 cases from 24 orthodontists and shows the wide range of diagnostic conditions that doctors are clinically confident in treating with AcceleDent. View the case gallery at AcceleDent.com/orthodontist/case-studies
Evidence of superior clinical results with AcceleDent
Since orthodontists have requested more clinical data supporting AcceleDent, OrthoAccel has coupled its clinical library with an online case gallery to share a broader depth of clinical results. The clinical library includes 14 peer-reviewed articles — including two randomized controlled trials — that demonstrate AcceleDent's effectiveness in clinical applications. Building upon this research, the online case gallery now includes more than 40 cases from 24 orthodontists. These cases show the wide range of diagnostic conditions that doctors, using varying treatment approaches and mechanics, are clinically confident in treating with AcceleDent.
Highly respected orthodontists and international lecturers provide details in these cases of how difficult or advanced movements become easier to achieve in the planned amount of time with AcceleDent's SoftPulse Technology. The cases include wire sequencing protocols as well as examples of different tray change protocols for aligner cases.
"We know that orthodontists place a high value on continuing education, especially as they are evaluating emerging technologies such as AcceleDent," said Farley. "That's why the OrthoAccel case gallery is so important. It gives orthodontists the opportunity to study real-world patient cases to determine best practices when incorporating AcceleDent into treatment."
New value pricing brings AcceleDent a step closer to standard of care
With the launch of AcceleDent Optima, OrthoAccel introduced new value pricing and the continuation of two marketing programs that have made it even more attractive for orthodontists to offer AcceleDent as standard of care to all of their patients.
Now in its third year, AcceleDent NOW is an exclusive program that allows orthodontists to offer patients a no-risk, 60-day trial of AcceleDent. To date, nearly 10,000 patients have been enrolled in the program, and on average, orthodontists report a 90% acceptance rate. OrthoAccel also offers orthodontists the opportunity to engage in an annual purchasing agreement to lock in preferred AcceleDent Optima pricing for a calendar year.
Predictable growth
OrthoAccel has won numerous business, design, and industry awards, including being named to the Deloitte 500 list of North America's fastest growing technology companies as well as being selected as the preferred accelerated orthodontic technique in the Journal of Clinical Orthodontists survey and in the annual Orthotown Townie Choice Awards. As Josza looks to double and maybe even triple the business, in part with entrance to the Latin America market, he leans on the strength of the brand and the ongoing desire of orthodontists to increase predictability of outcomes to elevate OrthoAccel to its next level of success.
"We're not yet done revolutionizing the orthodontic industry through innovation," added Josza. "It's our time. We have a new product, the demand is apparent, and the market opportunity is great."
For more information about OrthoAccel and AcceleDent, visit AcceleDent.com.
This information was provided by OrthoAccel®.