Diana P. Friedman explores how consumers search for online information
When consumers, including prospective orthodontic patients, head to the Internet, 93% start by initiating a search.1 Healthcare continues to be a topic of great interest, as 72% of Internet users look online for health information.2 However, where consumers conduct their searches is undergoing a dramatic shift.
Welcome to the world of topical search — websites or portals that cater to a specific topic or area of interest. Though the term topical search may be new, websites that cater to highly targeted search results have been around for a long time and are gaining significant traction. A recent study found that topical search sites experienced an 8% increase in search traffic while major search engine traffic decreased by 3% over the same period.3 Some great examples of successful consumer topical websites include WebMD, Amazon, and eBay.
Healthgrades.com is the best example of a dental and orthodontic topical search site and is the most influential when it comes to searching and evaluating healthcare providers. More than 225 million visitors use the Healthgrades.com website each year to connect with healthcare providers that best meet their treatment needs. An amazing 20-plus million of these prospective patients search Healthgrades.com for a new dental care provider in their local area (including searches for an orthodontist). More compelling is the demographics of Healthgrades.com visitors — overwhelmingly female (72%), highly educated (84% have some post-secondary education), and affluent (52% have annual household incomes greater than $75,000).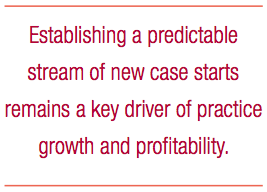 Not only are these demographics ideal for orthodontics, the behavior of prospective patients using Healthgrades.com goes far beyond just looking for health information — research shows more than half of visitors (54%) will schedule an appointment with a provider. Of this large group of prospective patients, an astounding 38% of them schedule the same day they visit, and 95% make an appointment within a week. It's clear that Healthgrades visitors conducting topical searches are an ideal target audience for growth-minded orthodontists.
Topical search sites such as Healthgrades are changing the way prospective patients find your practice. So how can you take advantage of this to drive more new case starts? Let's examine the construct of the Healthgrades topical search site to find the answer.
Healthgrades: two profile types
Basic
A Basic Profile is already available and practitioners can "claim" it for free. It includes limited information about your orthodontic practice such as name and address. These profiles include third-party and competitive practice advertisements and do not provide visitors with a way to schedule an appointment with your practice. Any Healthgrades visitor can submit a review of your practice, but they are not verified as your patients. So while you do want to claim your Basic Profile to ensure your provider information is accurate, the ability to gain case starts through the visibility afforded in having a top ranking for your location, or convert visitors into patients, is severely limited.
Enhanced
Late last year, Healthgrades Enhanced Profiles were introduced to the dental industry through a new partnership between Healthgrades and Sesame Communications. The Enhanced Profile provides your practice with a multitude of benefits over the Basic Profile and is the best way to turn your share of the 20 million prospective patients searching for a dentist or orthodontist into new patient appointments.
The major benefits of an Enhanced Profile on the Healthgrades.com topical search site include the following:
Automatic publishing of verified patient reviews — With a Healthgrades Enhanced Profile, verified, and high-quality post-appointment surveys from Ortho Sesame are automatically published to your Healthgrades Enhanced Profile. This ensures that the vast majority of patient reviews are verified and represent the true value your practice delivers. It also helps prospective orthodontic patients have confidence that the review ratings are accurate and credible.
Priority positioning in local search results on Healthgrades.com — An Enhanced Profile gives your practice higher placement in search results and greater visibility to patients searching for an orthodontist in your area. It provides premium postings in their "Featured Provider" section in addition to your inclusion in organic search results. On average, a visitor to Healthgrades.com will view 1.9 profiles during their visit, so it is imperative that your practice be featured prominently in the search results. Only Enhanced Profiles can show up in both featured and organic search results.
Front page calls to action — Enhanced Profiles allow patients to easily schedule an appointment with your practice by providing front page access to your practice phone number, a "Request an Appointment" link, and a link to your practice website. With one click on your Healthgrades Profile, a prospective patient can easily schedule that first appointment. This easy access helps facilitate more appointment requests for your practice.

Comprehensive doctor and practice information — When a prospective patient sees a large quantity of high-quality reviews, they naturally want to find out more about the practice. The Healthgrades Enhanced Profile includes significantly more information about your practice than a Basic Profile, including full biographies, practitioner photos and videos, testimonials, and procedures. An Enhanced Profile gives prospective patients a fuller picture of the unique benefits of your practice and makes it simple for them to contact your office.
Tracked ROI of your Healthgrades responses— Activating an Enhanced Profile allows your practice to track every new patient call and online appointment request received through Healthgrades.com. This important data lets you easily see how effective your Healthgrades Enhanced Profile is at bringing in new patients.
Sesame Communications conducted a recent study to measure the call volume for dental and orthodontic providers who have Healthgrades Enhanced Profiles. The evaluation tracked the number of prospective patient appointment request calls that were generated from a unique local phone number placed on the front page of a practice's Healthgrades Enhanced Profile. The analysis showed that practices generated, on average, more than 11 calls during a 4-week period after the initial launch of their Enhanced Profile.
The study analyzed the volume of incoming calls received by 98 dental and orthodontic practices with Healthgrades Enhanced Profiles from Sesame during the time period between December 9, 2013, and January 25, 2014, and in addition to the average of 11.1 calls received, also found that:
Practices, on average, had 21.33 post-appointment reviews automatically published from Dental Sesame or Ortho Sesame.
Of practices with Dental Sesame or Ortho Sesame and a Healthgrades Enhanced Profile, 94.12% showed up on page 1 of local organic search results on Healthgrades.com, in addition to their Featured Provider listing.
Final thoughts
Topical search sites, such as Healthgrades, help you get in front of a focused, highly targeted, and qualified set of prospective patients looking to make an appointment with a provider in your local area. Establishing a predictable stream of new case starts remains a key driver of practice growth and profitability. While many practices have rightfully embraced other digital marketing strategies to attract these new patients, they have yet to adopt a systematic method of success where reviews are concerned. With increased traffic on topical sites and performance percentages like this, it's time to utilize this new channel as a primary source of new patients.
References
1. Bianchini D. 10 Stats to Justify SEO. Search Engine Journal Web site. http://www.searchenginejournal.com/10-stats-to-justify-seo/36762/. Published November 21, 2011. Accessed August 8, 2014.
2. Fox S, Duggan M. Health Online 2013. Pew Research Internet Project Web site. http://www.pewinternet.org/Reports/2013/Health-online/Summary-of-Findings.aspx. Published January 15, 2013. Accessed August 8, 2014.
3. comScore. ComScore Releases the "2013 U.S. Digital Future in Focus" Report [press release]. www.comscore.com/Insights/Press_Releases/2013/2/comScore_Releases_the_2013_U.S._Digital_Future_in_Focus_Report. Published February 14, 2013. Accessed August 8, 2014.